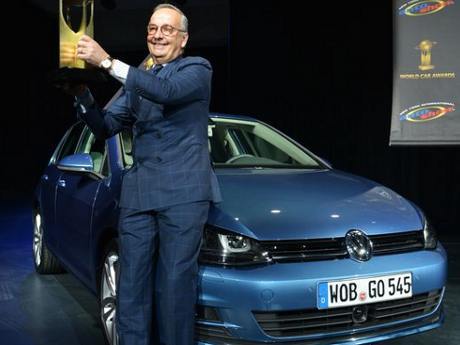 Jenewa
- Mobil asal Jerman Volkswagen Golf MK7 keluar sebagai World Car of the Year 2013 yang diumumkan pada 27 Maret 2013. Mobil hatchback tersebut mendapatkan poin tertinggi dari jurnalis otomotif seluruh dunia.
Volkswagen Golf generasi ketujuh itu berhasil mengalahkan kandidat terkuat seperti Mercedes-Benz A-Class, Porsche Boxster, Scion FR-S (Toyota 86) dan Subaru BRZ.
Golf dinilai tidak hanya baik dalam hal performa, melainkan juga hemat konsumsi bahan bakar. Mobil tersebut tersebar di beberapa negara maju dan berkembang.
Pengukuhan tersebut semakin membesarkan nama VW setelah tahun lalu VW juga beruntung mendapatkan titel World Car of the Year lewat VW UP!.
"Golf menunjukkan kemenangannya, dan tetap dalam kelas tersendiri di seluruh dunia," kata Chairman VW Martin Winterkorn. "Mobil ini menetapkan standar baru lagi dan lagi, paling tidak dalam hal efisiensi dan kredensial lingkungan," lanjutnya.
Golf Mk7 merupakan model pertama VW yang menggunakan arsitektur MQB. Untuk mesin bensinnya (1.4 liter) mobil ini memiliki konsumsi BBM 20 km per liter. Sementara untuk mesin diesel TDI bertenaga 105 kuda, memiliki konsumsi BBM 62 mil per galon atau 26.3 km per liter